TOWNSCAPE ASSESSMENT AND URBAN FRINGES
Development is often best sited within existing urban areas and within the urban fringe. We advise planning authorities on the appropriateness of development proposals taking account of environmental assets. We also advise developers on site selection and how to take development schemes forward in a sustainable way. Knowing what environmental assets to conserve and what factors define an areas' sense of place are critical to ensuring that future development is in the right place.
At AFA, we want our work to enable change that enhances the quality of life for people.
In this respect, we work on projects of various sizes including whole settlements (identifying and assessing issues and opportunities for potential development), comparative site assessments, through to sensitivity and capacity studies of individual peripheral sites. In all this work we draw on our knowledge and experience in townscape assessment, historic environment and green infrastructure planning.
Stowmarket Environmental Assessment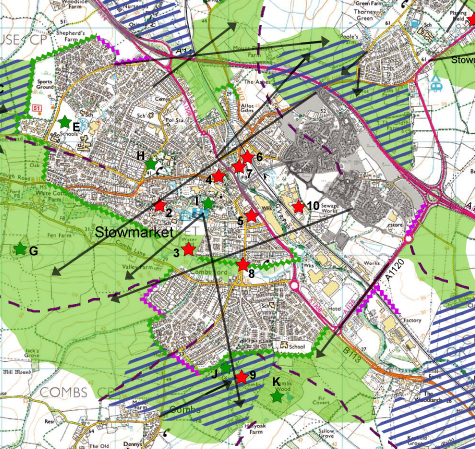 AFA was commissioned by Mid Suffolk District Council to undertake an whole settlement study of the market town of Stowmarket. The study area comprises the town itself and landscape which forms its setting including the villages of Onehouse, Stowupland and Combs and extending as far north as Haughley and as far south as the edges of Needham Market. The purpose of this study was to provide a detailed and robust analysis of Stowmarket and its setting in order to inform the future development of the town and the preparation of a town wide Masterplan.

Alconbury Sensitivity and Capacity Assessment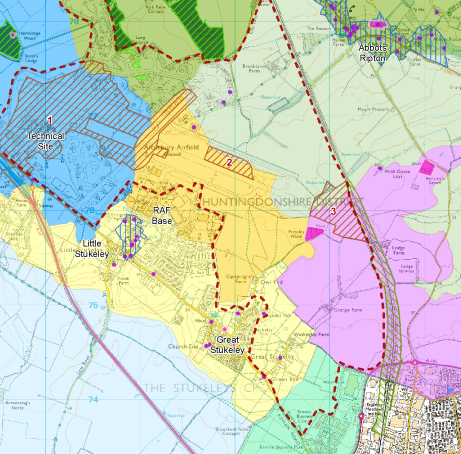 Alison Farmer Associates was appointed by Huntingdonshire District Council to advise on landscape issues associated with the potential development of land at Alconbury Airfield, Huntingdon. The study provides an independent landscape assessment and associated recommendations which can be used in selecting development sites and rebutting alternative proposals. In particular this study examined the variations in sensitivity of the study area in landscape terms; considered the potential capacity the area has to accommodate new development and identified in broad terms mitigation measures which may be required in association with further development of the area. The assessment included a review of landscape character, existing designations, landscape sensitivity and visibility from the surrounding area. It considered the general impacts of developing the site only, in order to inform the preparation of the Local Plan.